Let's Have a Diet Coke Christmas Cake
---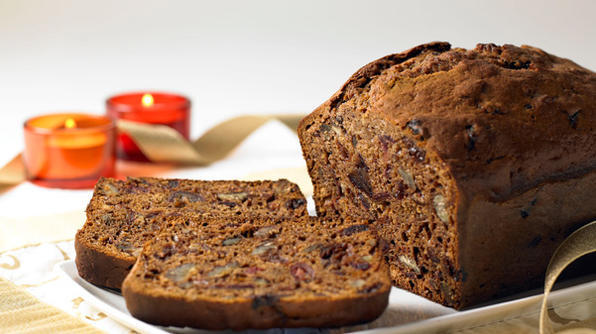 This cake will have you reaching for another slice every time! Perfect for the Christmas holidays, this Diet Coke Cake is not as strange as it sounds!
It's not the first time we've seen coca cola used in cooking, Nigella's Ham in Coca Cola caused quite the stir when she made it on Nigella Bites.
Now it's the turn of a sweet treat, Diet Coke Cake to take centre stage and delight us with its caramel goodness. Dates, cherries, honey and cinnamon all play a part to bring this cake to life, and we couldn't be happier!
We stumbled upon this Diet Coke Cake recipe when browsing dates for the Coca Cola truck, because nothing says Christmas more than seeing that advert on screen!
This caught our eye because it looks richly enticing, enough for us to stop for a Diet cake break! (No we won't stop it!).
You'll Need
300ml Diet Coke
225g dried pitted dates, roughly chopped
5ml (1 tsp) bicarbonate of soda
50g dried sour cherries
50g dried cranberries
60ml (4 tbsp) honey
250g self-raising flour
10ml (2 tsp) ground mixed spice
5ml (1 tsp) ground cinnamon
2 medium eggs, lightly beaten
75g pecans or walnuts, chopped
Method
Grease and base line a 900g loaf tin and preheat the oven to 180ºC, gas mark 4.
Heat the Diet Coke in a medium pan until boiling. Remove from heat and stir in dates, bicarbonate of soda, then stir in the cherries, cranberries and honey. Mix well and allow to cool.
Sift the flour with the spices, then add to the cooled date mixture. Stir in the eggs and nuts. Pour into the prepared tin and bake for 1-1¼ hours, or until a skewer inserted into the middle comes out clean, covering with foil if the cake becomes too brown.
Leave to cool in the tin. Store in an airtight container for up to 1 week.
Makes: 10 slices
Preparation time: 10 minutes
Cooking time: about 1¼ hours
Recipe and image by Coca Cola.