Sparkling Raspberry Tiramisu
---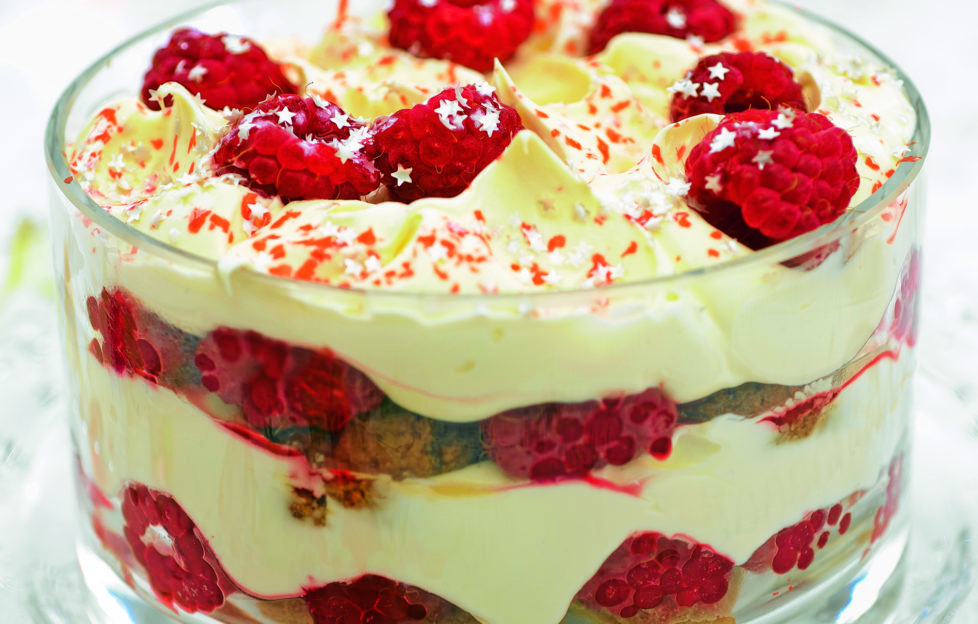 This variation on the most Italian of desserts, Tiramisu, will provide proof of La Dolce Vita!
When you think tiramisu, you might not necessarily think Raspberry, but don't be afraid to try something new, in dessert, and at Christmas.
You'll need
150ml strong coffee, cooled
3tbsp Tia Maria or Amaretto liqueur
12 sponge fingers
12 amaretti or ratafia biscuits
400g frozen raspberries
400g mascarpone cheese
300ml double cream
1tsp vanilla extract
25g caster sugar
To decorate:
Red and silver edible glitter or stars
Method 
1 Mix together the cooled coffee with the Tia Maria or Amaretto liqueur. Dip half the sponge fingers and amaretti or ratafia biscuits in the mixture, one at a time, and arrange in the base of a trifle dish.
2 Tip one-third of the frozen raspberries into the trifle dish. In a bowl, beat together the mascarpone cheese, cream and vanilla extract until smooth.
Add the caster sugar. Spoon half the mixture into the trifle bowl and level the surface.
3 Repeat the layers once more, then sprinkle the remaining raspberries over the surface.
4 Serve, chilled from the fridge and sprinkled with the red and silver edible glitter or stars.
Preparation time
25min
Cooking time
None
Serves 8
Ingredients
Recipe and food styling: Sue Ashworth
Photography: Nathan King