White Chocolate And Pretzel Christmas Trees
---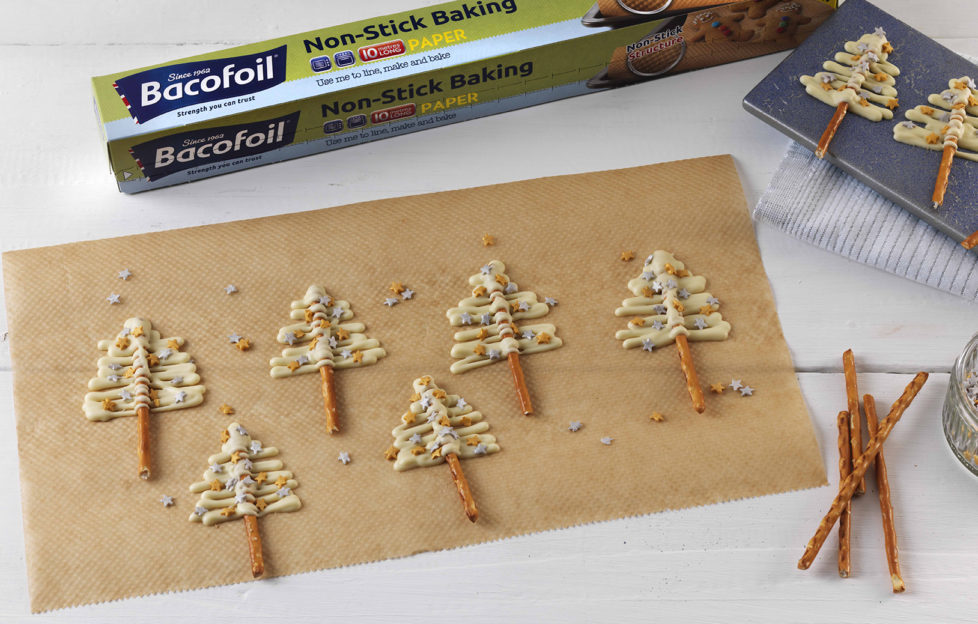 These fun, festive treats are a great recipe for Christmas, and are so easy to make the kids can get involved too!
Serves: 10-20
Cooking time: 20min, plus cooling
Ingredients:
Bacofoil® Non-Stick Baking Paper
1 large bar white chocolate
Pretzel sticks, broken in half
Silver and gold stars, or multi-coloured sprinkles to decorate
To make:
Lay a large piece of Bacofoil® Non-Stick Baking Paper onto a flat board – you may need more than one piece of baking paper and boards depending on how many trees you're making.
Break the chocolate into pieces and place in a heatproof bowl suspended over a pan of hot (but not boiling) water, allowing the chocolate to melt for a few minutes. The water only needs to be about 5cm deep, ensure that the base of the bowl doesn't touch the water.
Meanwhile, arrange the pretzel sticks on the paper, well-spaced apart.
When the chocolate has fully melted, spoon it into a piping bag fitted with a very fine, plain, writing nozzle. Pipe zig-zags of chocolate to form a Christmas tree shape, starting narrowly at the top and getting wider for the lower branches.
Sprinkle stars or strinkles over the decorations, then allow to set in a cool place or the fridge. Once set, the trees will peel easily off the Non-Stick Baking Paper.
Tip: Arrange on a Christmassy plate and dust with a little icing sugar to create a snowy scene! Enjoy!
Recipes & Styling: Bacofoil