Vegan, Gluten-Free Mince Pies From Meridian
---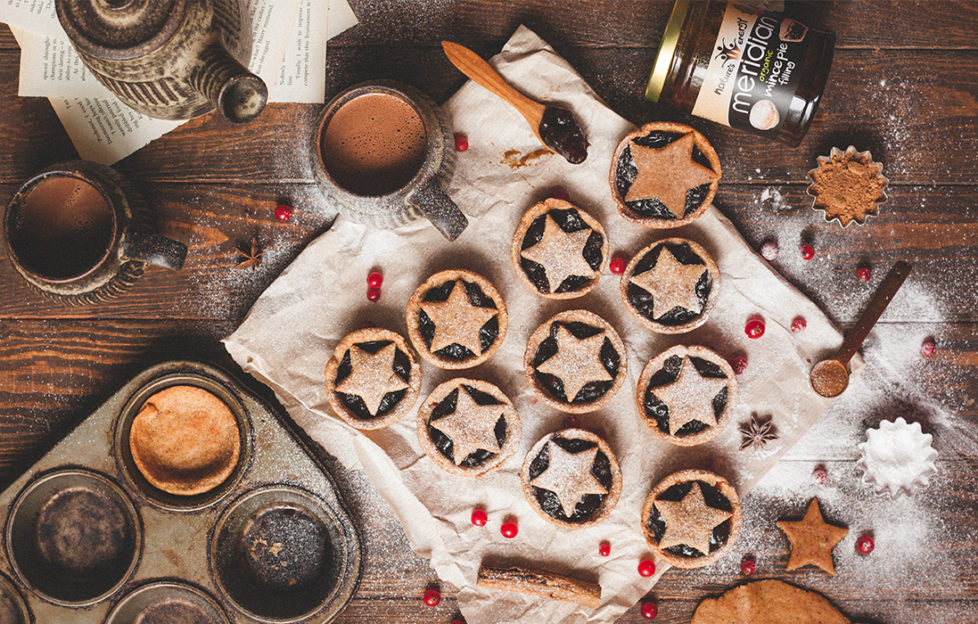 Pic: Samantha Hadidi, Meridian ambassador and recipe stylist
The classic Christmas treat gets a healthy makeover! Why not try this delicious wholefood version…
Preparation time: 25min+20min chilling
Cooking time: 20min
Makes 12 mince pies
Ingredients:
2 cups ground almonds (alternatively use gluten-free flour)
3 heaped tbsp Meridian Smooth Almond Butter
3tbsp maple syrup
1/4tsp bicarbonate of soda
Pinch of salt
Splash of coconut milk
1 jar Meridian Mince Pie Filling
To Make:
Preheat your oven to 170C. In a mixing bowl, stir together the ground almonds or flour, bicarbonate of soda and salt.
In a saucepan, gently melt together the almond butter and maple syrup until smooth. Stir.
Stir together the almond butter mixture with the ground almond mixture until it starts to come together. Add a splash of coconut milk – 1tsp at a time, stirring in between each addition – until the mixture comes together into a smooth dough (we needed just over 4tsp).
Chill the dough for 20min until it's firm enough to handle. Take 3/4 of the dough to make the pastry cases, setting aside the remainder for the stars on top.
Between two sheets of baking paper, roll out your dough. Use cookie cutters to cut out 12 rounds. Press these into muffin tins (we used a silicone muffin pan), ensuring you press it up the sides. Place in the oven to bake for 8-10min, or until lightly golden.
In the meantime, roll out your remaining dough and cut out 12 stars using cutters.
Remove pastry from the oven and spoon in your mince pie filling (1 heaped tsp per pie). Top with the stars and brush each with  coconut milk.
Place back in the oven to bake for a further 10-12min, or until golden. Allow to cool, then eat and enjoy!