California Walnut Oatcakes With Apple Walnut Chutney
---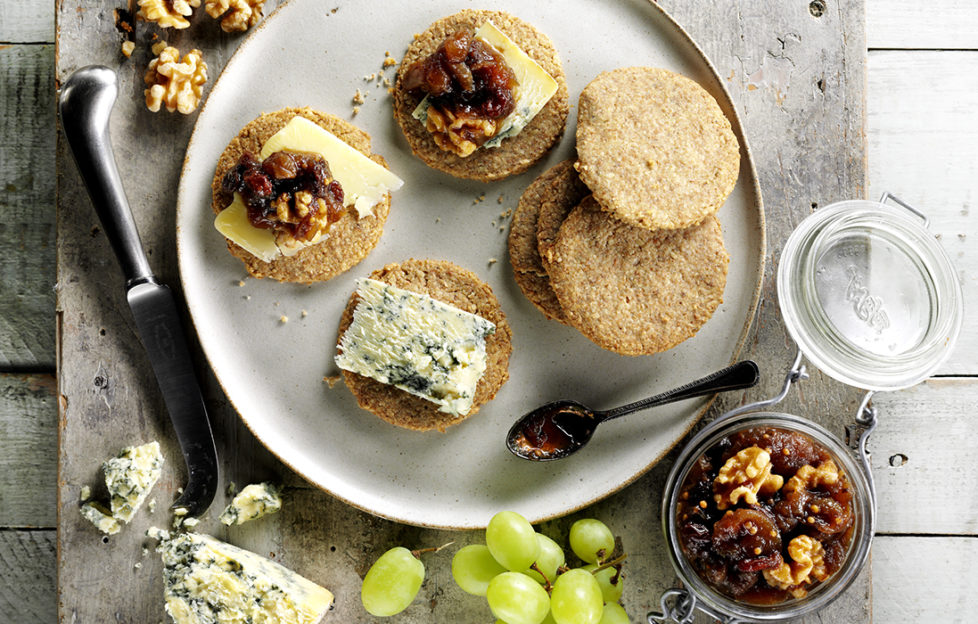 The deliciously nutty chutney and oatcakes make a healthy alternative to dessert. Alternatively serve as a satisfying lunch or supper – just add cheese and wine!
Preparation Time: 15min
Cooking Time: 40min
Makes 1.2kg chutney and 12 oatcakes
For the Apple & Walnut Chutney:
800g Bramley apples, peeled, cored and diced
350g light brown soft sugar
100g California Raisins
150g California Walnut Halves
1 onion, chopped (180g)
2tsp mustard seeds
350ml cider vinegar
For the Walnut Oatcakes:
50g California Walnut Halves
100g medium oatmeal
75g wholemeal plain flour
¼tsp sea salt
75g butter, diced
To Serve:
To Make:
Preheat the oven to 180oC, gas mark 4. Grease 1-2 baking trays.
Place all the chutney ingredients in a large, heavy-based saucepan. Season, cover and cook for 15min. Remove the lid and simmer for 20min, stirring occasionally until the liquid has reduced and the fruit is soft. Allow to cool.
Meanwhile, make the oatcakes. Place the walnuts in a food processor and pulse until finely chopped. Add the oatmeal, flour and salt and pulse to mix evenly. Add the butter and process until the mixture is just beginning to come together. Add 1-2tbsp water and mix again to give a soft dough, but not sticky.
Roll out on a floured surface to 3mm thickness and using a 7cm round cutter, cut out 12 rounds. Place on the baking trays and cook for 15min until just turning golden. Allow to cool slightly before transferring to a cooling rack.
Serve the oatcakes with the chutney and a selection of cheese.
Cooks tip
The chutney will last for 2-3 weeks if put into sealed, sterilised containers when still warm.