Turkey & Ham Pie – A Tasty Way With Leftovers
---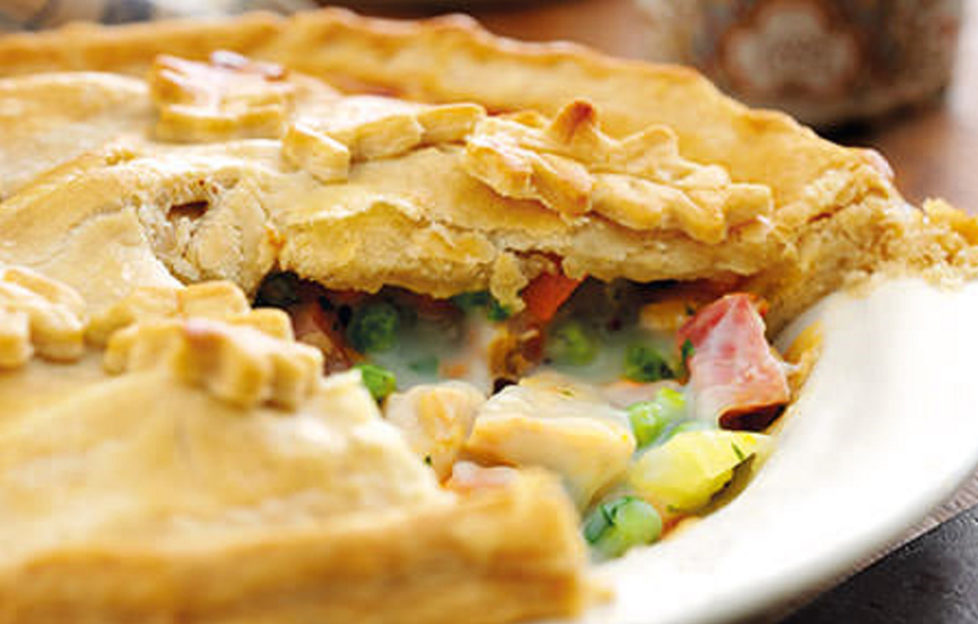 Preparation time: 20min
Cooking time: 25-30min
Serves 6 
Ingredients:
1 small onion, chopped
1 carrot, diced
300ml chicken stock
2tbsp cornflour
4tbsp milk
225g cooked turkey, chopped
100g cooked ham, chopped
50g frozen peas
1tbsp chopped fresh parsley
Salt and freshly ground black pepper
For The Pastry:
350g plain flour
¼tsp salt
150g Trex
Beaten egg or milk, to glaze
To Make:
For the filling, put the onion and carrot into a saucepan with the stock. Cover and simmer for 15 minutes. Mix the cornflour with the milk until blended, then add to the stock, stirring until thickened. Remove from the heat and stir in the turkey, ham, peas and parsley. Season.
For the pastry, sift the flour and salt into a large bowl. Rub in the Trex with your fingertips until the mixture looks like fine crumbs. Stir in just enough chilled water to make a soft, but not sticky dough. Knead for a few moments until smooth, then wrap and chill for 10-20min.
Preheat the oven to 200°C/fan oven 180°C/Gas Mark 6.
Cut the pastry into two equal pieces. Roll out each piece on a lightly floured surface into a circle with a diameter of 27cm. Use one circle to line a 25cm metal pie plate.
Spoon the cooled filling onto the pie plate and spread out evenly. Dampen the pastry edges with water, then place the lid on top. Press the edges together to seal, trim with a sharp knife, then make 2-3 small cuts in the centre of the lid to allow steam to escape. Brush the surface with beaten egg or milk, then bake for 25-30min until cooked and golden brown.