Healthy, Delicious Carrot Cake – Gluten Free & Dairy Free
---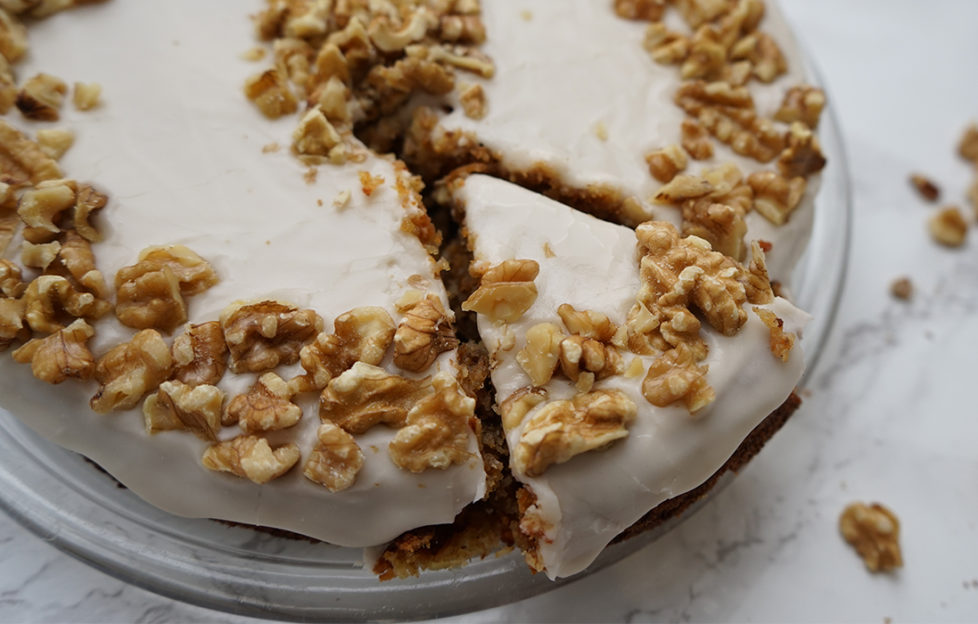 This healthier version of a teatime favourite is made without flour or refined sugar, but does not compromise on taste! Xylitol has been used as a sugar alternative since the 1940s. The xylitol used in Total Sweet is of the highest possible quality and is GMO free. A word of warning – too much xylitol may have laxative effects, and all xylitol is toxic to dogs.
Dr Michelle Braude also shares daily nutrition tips, advice and delicious healthy recipes on her Instagram page, @thefoodeffectdr
Her two books, The Food Effect Diet and The Food Effect Diet Vegan are full of advice and recipes to help you 'eat more, weigh less, look & feel better'. Available from Amazon.
Preparation Time: 25min + 30min soaking
Cooking Time: 45min-1 hour
Serves: 10-12
Ingredients:
For The Cake
3 large eggs
200g xylitol sugar alternative
2tsp vanilla essence
120ml melted coconut oil
200g ground almonds
100g desiccated coconut
2tsp cinnamon
½tsp nutmeg
50g grated carrot
100g pecan nuts or walnuts, roughly chopped
For The Dairy-free Icing (optional)
150g unsalted cashew nuts, soaked in boiling water for 30min, or overnight in cold water
60ml agave or maple syrup
2tbsp coconut oil
1tsp vanilla extract
Pinch of sea salt
To Make:
First, make the cake. Preheat the oven to 160°C/Gas 3. Beat the eggs, sugar, vanilla and oil until light and well combined.
Add the ground almonds, coconut, cinnamon and nutmeg, and stir until just combined. Then add the grated carrot and chopped nuts, and mix until well combined.
Line a 23cm spring-form tin with baking paper and spray the sides with non-stick baking spray or oil. Spoon the batter into the prepared pan.
Bake for 45min-1 hour, until a toothpick inserted in the cake comes out clean.
Allow the cake to cool in the tin for about 10min, then loosen the edges with a knife and remove from the tin to cool.
When totally cool, prepare the icing (see below) and spread thickly all over the cake.
To make the icing, drain and rinse the soaked cashew nuts.
Combine all the ingredients in a high-speed blender or food processor, and blend until smooth and creamy. You may need to scrape the mixture down and pulse a few times to achieve the desired consistency. Remove from the blender and set aside.
Spread over the carrot cake once it has completely cooled.