Roasted beetroot, kale and brie quiche
---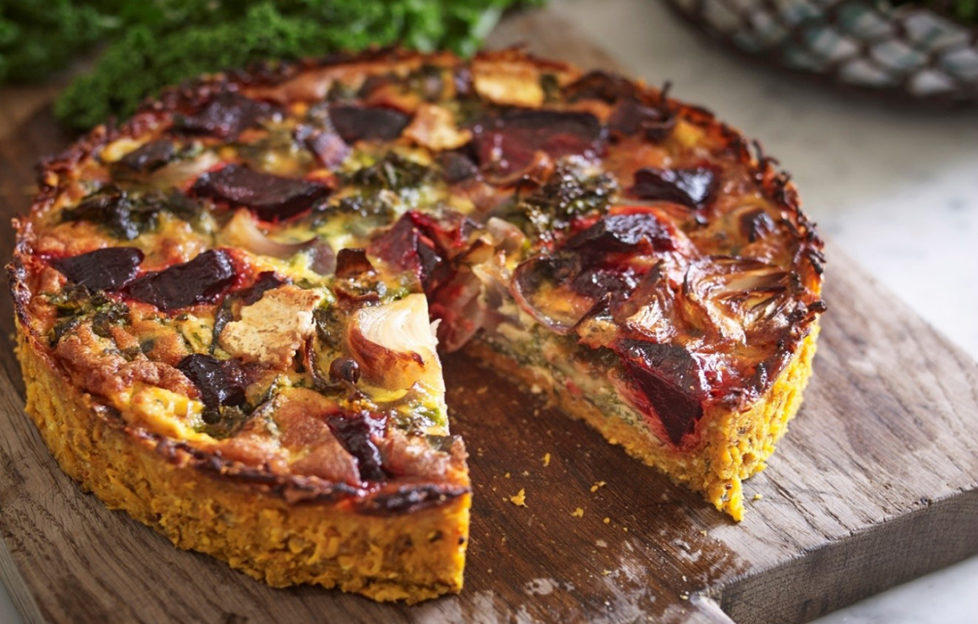 This seasonal, vegetarian delight is packed with the first of the autumn veg in a non-pastry case – great if you are gluten-free. A delicious addition to a Christmas buffet or an easy lunch for guests staying over the festive period…
This recipe from the National Trust is made using seasonal ingredients from the Trust's kitchen gardens. Sample at one of their locations, or use your own fresh produce to create it at home.
Matt Drew, Head of Food & Beverage for the National Trust comments, "We're continually striving to produce and sell food that benefits everyone and the environment. That's why we ensure that our menus make the most of British, seasonal ingredients, often showcasing produce grown in our very own kitchen gardens. What's more, the income generated by the sale of these dishes goes back into looking after the places in our care."
Serves: 6
Preparation time: 30min
Cooking time: 30-40min
Ingredients:
• 360g sweet potato, grated
• 1 medium egg
• 50g Cheddar cheese
• Pinch chilli flakes
• Pinch salt
• Pinch cracked black pepper
• 1tsp cold-pressed rapeseed oil
For the filling:
• 600g beetroot, scrubbed
• 10ml cold-pressed rapeseed oil
• 200g red onion, peeled and cut into chunks
• 100g kale, thinly sliced
• Sprig fresh rosemary
• 150g brie, cubed
For the custard:
• 5 eggs
• 200ml milk
• 50ml double cream
• Pinch of salt
• Pinch of cracked black pepper
• 100g brie, cubed
To make:
For the crust:
Place the grated sweet potato in a sieve and squeeze out as much liquid as you can.
Place in a mixing bowl and add the egg, cheese and chilli with a little salt and pepper, mix well.
Brush the base and sides of a loose-bottomed sandwich tin (23cm) with the oil. Press the potato mix into the tin, making sure it's of even thickness and well pressed. Save a little mix for filling any holes.
Place in the oven at Fan Oven 170°C, Glas Mark 3 and cook for around 15min until the potato is set and slightly crisp around the edges. Check for any holes or cracks and patch them accordingly.
For the filling:
Place the beetroot on a tray, add a little water and then wrap it in foil. Place in the oven at Fan Oven 170°C, Glas Mark 3 and bake for around 1 hour until soft. Remove from the oven and leave to cool.
Rub the skins off the beetroot and cut into small, bite sized pieces and place in a bowl.
Place a pan over a high heat, add the oil and onions and fry until colouring.
Place the kale into boiling water for 5min, drain in a colander and leave to dry.
Place the beetroot, onions, kale, rosemary and brie in a bowl and mix together gently but well. Pour into the case and shake gently to level.
For the custard:
Whisk the eggs, milk and cream together, season well and pour over the mix in the case.
Scatter over the remaining brie and place the quiche in the oven for around 35-40min or until set and golden.