Lighter Christmas Canapes
---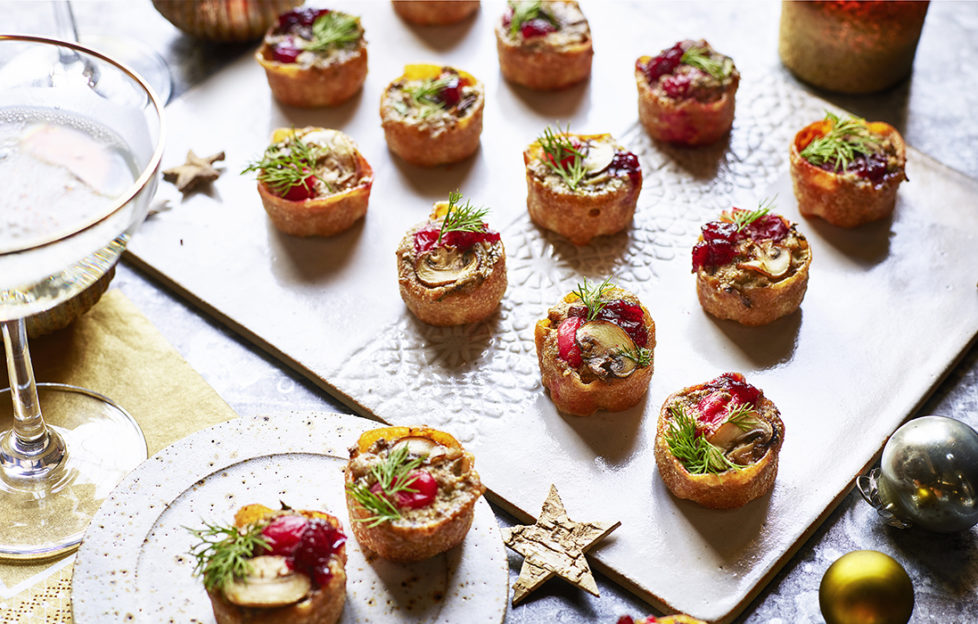 This blend of turkey mince, finely chopped mushrooms and juicy cranberries offers a great alternative to the traditional meat-heavy festive indulgences. Perfect for those looking to reduce meat in their diet, and every bit as temptingly tasty!
Preparation Time: 15min
Cooking Time: 20min
Makes: 12 canapes
Ingredients:
200g chestnut mushrooms
100g turkey mince
50g frozen cranberries or cherries
1 egg, beaten
4tbsp double cream
2tbsp chopped chives
12 vol au vent cases or mini pastry cups
4tbsp cranberry sauce
A few dill sprigs, to garnish
Salt and pepper
To Make:
Heat the oven to 180ºC/Fan 160ºC.
Lay out the pastry vol au vents or tartlets on an oven tray.
Blitz the mushrooms in a food processor until finely chopped. Mix with the turkey, egg, cream, cranberries and chives and a pinch of salt and pepper.
Stuff each case with a generous spoonful of the filling. Bake in the oven for 15-20min until golden.
Remove from the oven and spoon over a touch of cranberry sauce. Top with a dill sprig, then serve warm.