Roast Leg Of Welsh Lamb With Gin & Cranberry
---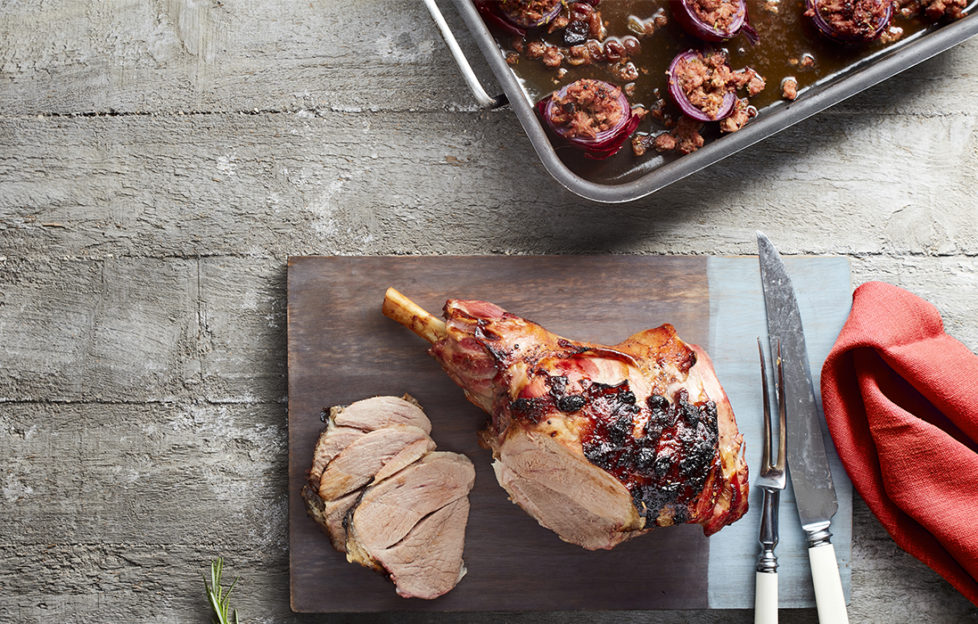 The numbers we can cater for under one roof may be restricted, but the quality of the food we serve shouldn't be compromised. Wales is blessed with home-grown PGI Welsh Lamb, PGI Welsh Beef and Porc Blasus. Each lends itself beautifully to a range of dishes, including this show-stopping centrepiece.
Preparation Time: 20min
Cooking Time: 1hr 40min
Serves: 6  
Ingredients:
1 PGI Welsh Lamb leg joint – allow 175-350g per person
450g PGI Welsh Lamb or PGI Welsh Beef sausages – slit skins and remove meat
6tbsp gin
3tbsp cranberry sauce
4 small red onions
1tsp butter
2 sprigs fresh rosemary
To Make:
Preheat the oven to 180°C / 160°C fan / Gas 4-5. Weigh the joint and calculate the cooking time: medium – 25min per 450-500g plus 25min; well done – 30min per 450-500g plus 30min.
Line a roasting pan with two sheets of foil and place the lamb leg onto the foil. Mix together the gin and cranberry sauce and spoon this over the lamb.
Scrunch the foil around the joint, but leave the top exposed. Place the joint in the preheated oven to roast and baste occasionally during cooking. Add the onions (instructions below) 45min before the end of the final cooking time for the lamb.
Meanwhile cut the onions in half horizontally (stalk at top) and using a spoon, scoop out some of the layers leaving 2-3 in the shell.
Roughly chop the removed onion. In a pan, heat the butter and lightly fry the onion.
Remove from the heat and allow to cool slightly. Add the rosemary and sausage meat and combine together.
Take a spoonful of mixture and stuff into the onion shells. Prop them up around the joint, drizzle with a little olive oil and cook for 40-50min until the onion is soft and golden.
Rest the joint for about 15min. Serve with roasted potatoes, baked onions, seasonal vegetables and cranberry gin meat juices.