Spiced Gammon with Citrus Cavolo Nero Sauce
---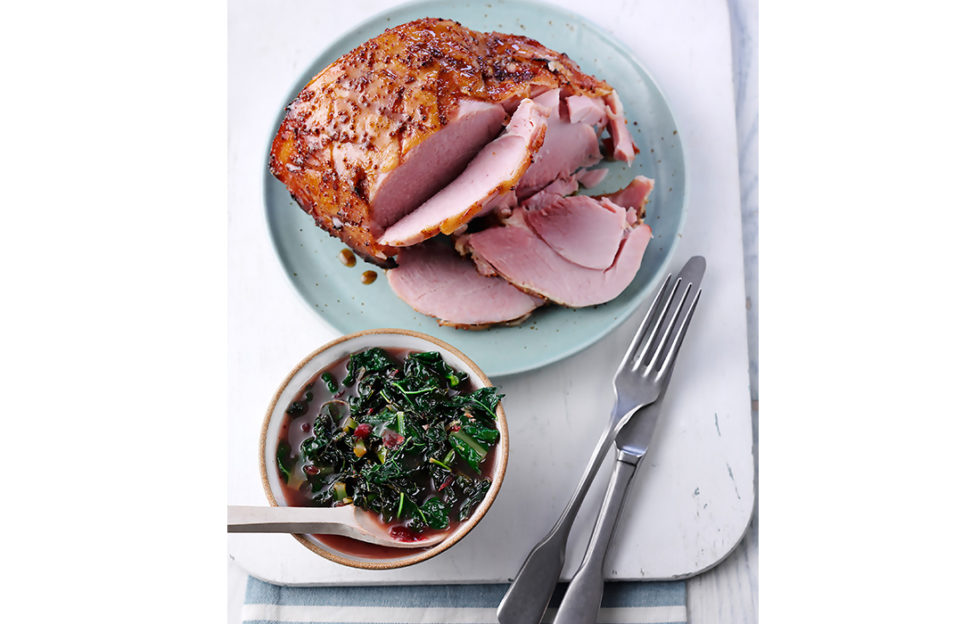 Anyone can tackle this simple recipe from Discover Great Veg, and the results look spectacular! Make it the centrepiece of your festive table!
Preparation time: 20min
Cooking time: 2hr
Serves: 6
Ingredients:
1.25kg unsmoked gammon joint
2tbsp honey
1tsp mixed spice
1tsp wholegrain mustard
1tbsp oil
200g pack shredded cavolo nero
2tsp cornflour
200ml chicken stock
Zest and juice of 1 orange
Zest and juice of 1 lemon
100g cranberry sauce
To make:
Place the gammon in a large saucepan and cover with cold water. Bring to the boil, cover and simmer for 1hr 45min, topping up with boiling water as required.
Preheat the oven to 200°C, Fan Oven 180°C, Gas Mark 6.
Drain the gammon and place in a roasting tin, cut off the skin but keep a layer of fat and score the fat in a diamond design. Mix the honey, mixed spice and mustard together and brush over the whole joint. Bake for 15-20 minutes.
Meanwhile, heat the oil in a large frying pan and fry the cavolo nero for 3min. Blend the cornflour with the stock, zest and juices of the orange and lemon. Stir into the pan with the cranberry sauce and bring to the boil, stirring until thickened, simmer for 1-2min until just tender.
Serve the cavolo nero sauce with the gammon and new potatoes.
Cooks tip: The cavolo nero sauce is perfect to serve with leftover roast turkey and sausages, or use with other cold meats for a quick supper dish.