Pomegranate & Walnut Brussels Sprouts
---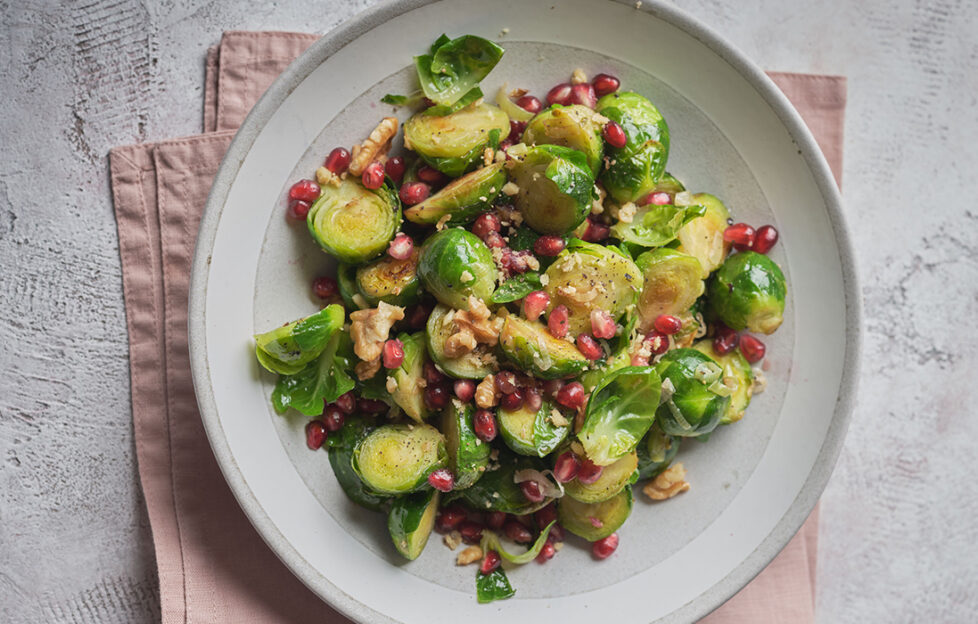 Try this super simple, quick-to-make recipe with Brussels sprouts and pomegranates for a festive dinner side dish that deserves to be centre stage.
Ingredients:
700g Brussels sprouts, trimmed and halved
2tbsp olive oil
50g walnut halves, roughly chopped
3tbsp pomegranate molasses
80g pomegranate seeds
To Make:
Bring a large pan of salted water to the boil. Add the Brussels sprouts and cook for no more than 2min. Drain well.
Heat the olive oil in a large frying pan and add the garlic and cook for just 30 seconds. Tip in the Brussels sprouts and toss well with the garlic and cook for about 6-8min until starting to turn golden.
Add the walnut halves and pomegranate molasses and toss everything together cooking for a further 5min. Remove from the heat and stir though the pomegranate seeds and season well to taste. Serve scattered with a few extra chopped walnut halves.
About Pomegranates:
A 100g portion of pomegranate seeds provides half of the recommended daily amount of vitamin C, which contributes to the normal function of the immune system. Pomegranates are also a source of vitamin K, some B vitamins and minerals such as calcium, potassium and iron.
The calorie count of pomegranate seeds is 89kcal per 100g, making pomegranate seeds a low-calorie fruit.
Available in all major retailers, pomegranate seeds can be used straight from the pack – either as a snack, or a part of both sweet and savoury recipes. Discover more here.