Lyre's Dark & Light Cane Spirit Christmas Fruit Cake
---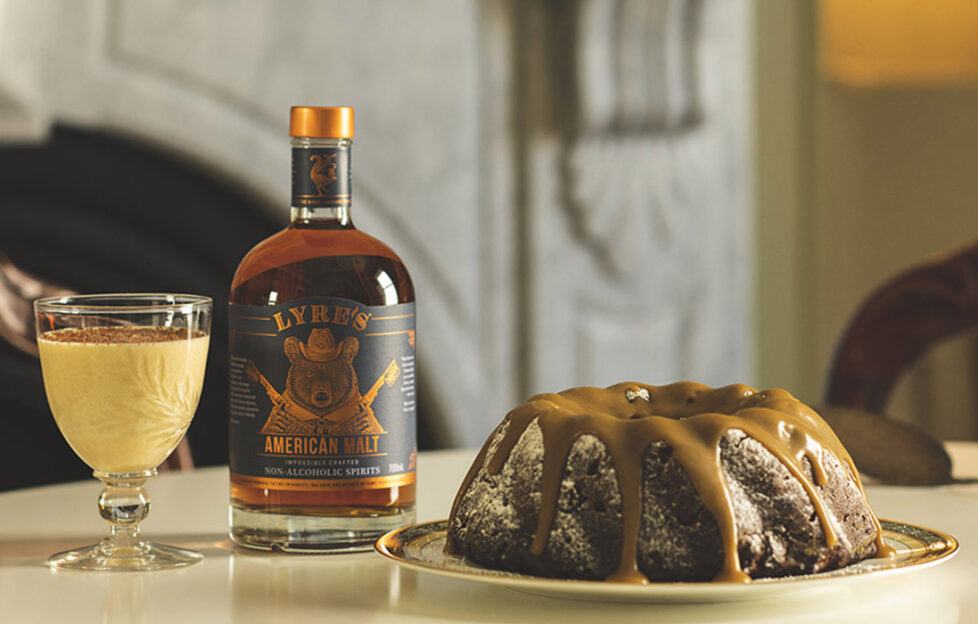 You'll need to prepare this recipe at least a week in advance. This gives the fruit chance to soak up the alcohol-free spirits and spice aromas. A gorgeously rich fruit cake, worth the wait!
Preparation Time: 30min + 7-10 days soaking
Cooking Time: up to 1hr 30min
Serves: 8-10
For the fruit soak (prepare at least 1 week prior to cooking)
Ingredients:
190ml Lyres Dark Cane Spirit
110ml Lyres Light Cane Spirit
60g brown sugar
60ml water
Zest and juice of 1 large orange
80g sultanas
100g currants
160g dried cranberries
90g sliced prunes
70g slice dates
140g sliced dried figs (stems removed)
pinch sea salt
1tsp vanilla extract
1tsp ground cinnamon
½tsp ground cardamon
To Make:
In a medium saucepan, combine the Lyres Dark and Light Cane Spirits, brown sugar, water and orange zest and juice. Heat over moderate heat until sugar is dissolved and combined. Add the rest of the ingredients to the syrup and stir well.
Using a spoon press and compact all of the fruit and spices into the warmed liquid and cook on low heat for a further 5min.
Pour the fruit mix into a container and refrigerate for 7 -10 days to allow fruits to soak and hydrate. Stir every few days to ensure fruit is soaking evenly.
For the fruit cake
Ingredients:
120g flour + extra for dusting
½tsp ground nutmeg
20g ground almonds
100g soft brown sugar
2tbsp molasses
2tbsp honey
2tsp marmalade
120g salted butter
3 whole eggs
To Make:
When ready to make the cake, preheat your oven to 180ºC. Grease a Bundt tin generously with butter and dust lightly with flour, tipping out any excess so as to thinly coat the tin.
Sift the flour, nutmeg and almond meal together in a bowl and set aside.
In the bowl of an electric mixer with a paddle attachment, cream the butter, molasses, honey, brown sugar, and marmalade on moderate speed until pale. Add the eggs one at a time, slowly until incorporated alternating with the flour mix until all combined.
Remove the bowl from the mixer and fold in the soaked fruit with a spatula. Pour the cake mix into the prepared Bundt tin and bake for 20min at 180ºC before turning temperature down to 160ºC for a further 20min. Insert a skewer to see if it comes out clean. It may need up to 1hr to cook.
Cool the fruit cake before topping with caramel. Best served at room temperature
For the Dark Cane Spirit caramel sauce
Ingredients:
210ml pouring cream
100ml Lyres Dark Cane Spirit
175g golden syrup
140g soft brown sugar
110g salted butter
To Make:
Weigh all ingredients in a saucepan and bring to the boil.
Boil gently for 10-15min, stirring continuously until the mixture thickens.
Allow to cool before pouring over the cake.