Roast Pork with Winter Fruits
---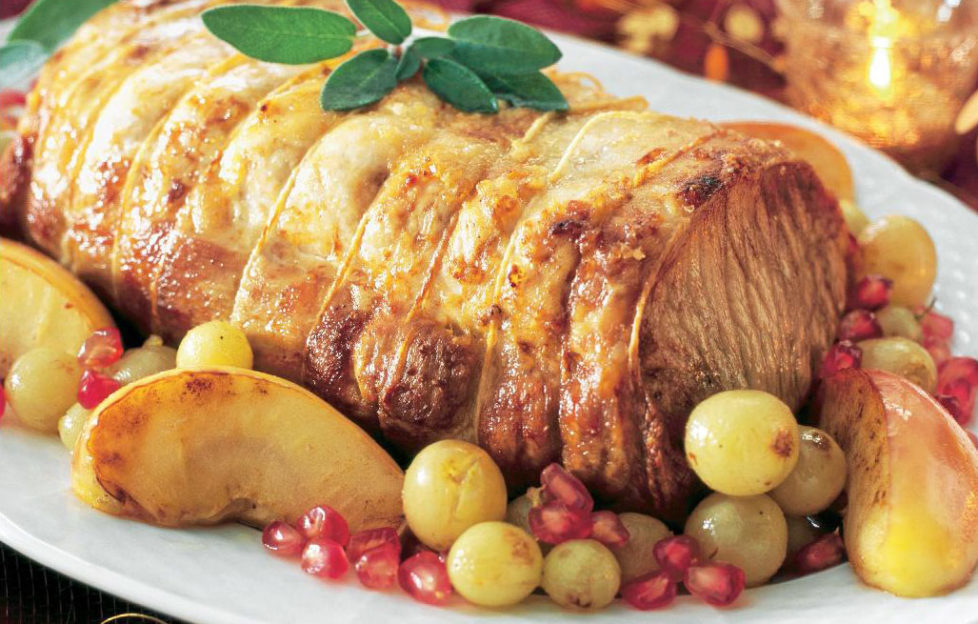 Move over turkey, there's a new roast in town! Teamed with winter fruits, this roast pork will delight everyone.
Serves: 8
Preparation time: 15min, plus resting
Cooking time: 3hr 20min
Ingredients:
2.5kg boneless leg of pork
Salt
2-3 eating apples, cut into wedges
1 small bunch seedless white grapes
Seeds of 1 pomegranate
To garnish:
Sage sprigs
To make:
Rub the pork skin dry with kitchen paper and cover with 3tbsp of salt, working it into the cuts. Leave at room temperature for at least 30 min. The salt removes excess moisture from the skin to ensure crisp, delicious carving.
Heat the oven to 220°C, Fan Oven 200°C, Gas Mark 7.
Rub off all the salt from the joint and from between the cuts and pat dry again. Lightly cover the rind with 1tsp salt.
Put into a roasting tin and cook for 30min per 450g, plus 35min. After the first 25min, reduce the oven temperature to 180°C, Fan Oven 160°C, Gas Mark 4.
Add the apple wedges to the roasting tin 15min before the end of cooking. Remove the pork from the tin to a warmed serving plate, cover with foil and a clean tea towel and leave to rest for 20min.
Whilst the pork is resting add the grapes to the apples in the roasting tin and put back in the oven for 10-15 min until slightly soft and warmed through.
Arrange the roasted fruits and pomegranate seeds around the pork on the serving plate. Garnish with sprigs of sage and serve with potatoes and vegetables as desired.
Recipes & Styling: Maxine Clark